We are opening Q3 with another regular update. Introducing a couple new features, UI enhancements, and bugfixes.
So, what's new in
version 4.43
:
1. REPRICING PRIORITY REPORT
Having received numerous requests, we have added a
Repricing Priority
report
into
Price Reports
. It is a
time-snapshot
report providing overview of
all articles by zone
based on:
Repricing rank – prioritised order of articles based on how important it is to reprice them by the time when the report is generated
Blocker – indicating reasons why certain articles cannot be repriced according to Repricing rank
Export rank – the result of the two previous indicators listing articles that will be exported by priority
It includes information on the
date
by when the report is valid,
Export size limit
set for Standard exports in the Export module, as well as the
total amount of articles
set for
Priority repricing
represented by a green dot indicator. The report allows to review articles that are candidates for export at the given time, as well as articles that would be repriced based on Repricing rank but are not included in the closest export due to Blockers. It helps to gain understanding of Repricing priority and make decisions on any necessary adjustments prior to the closest export.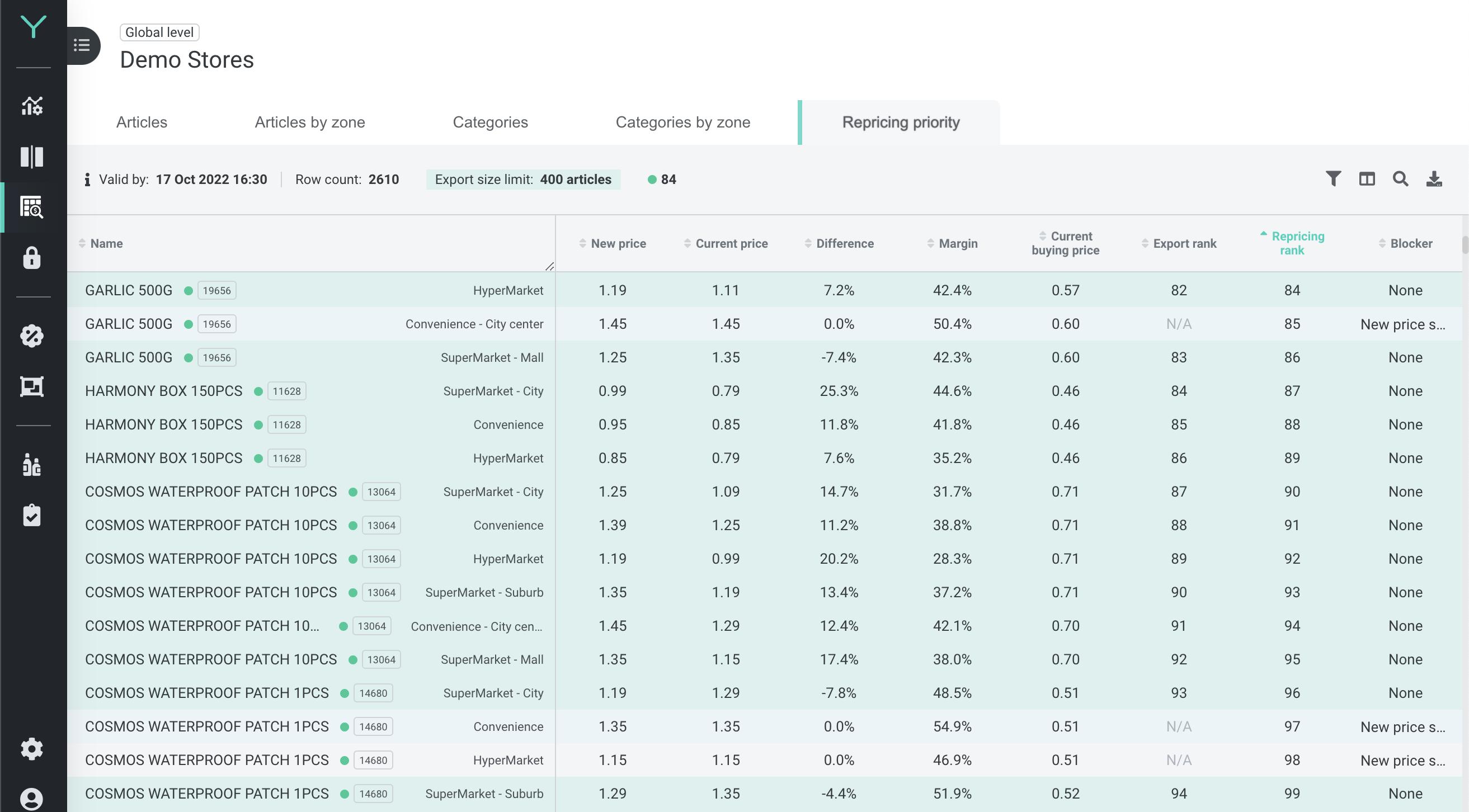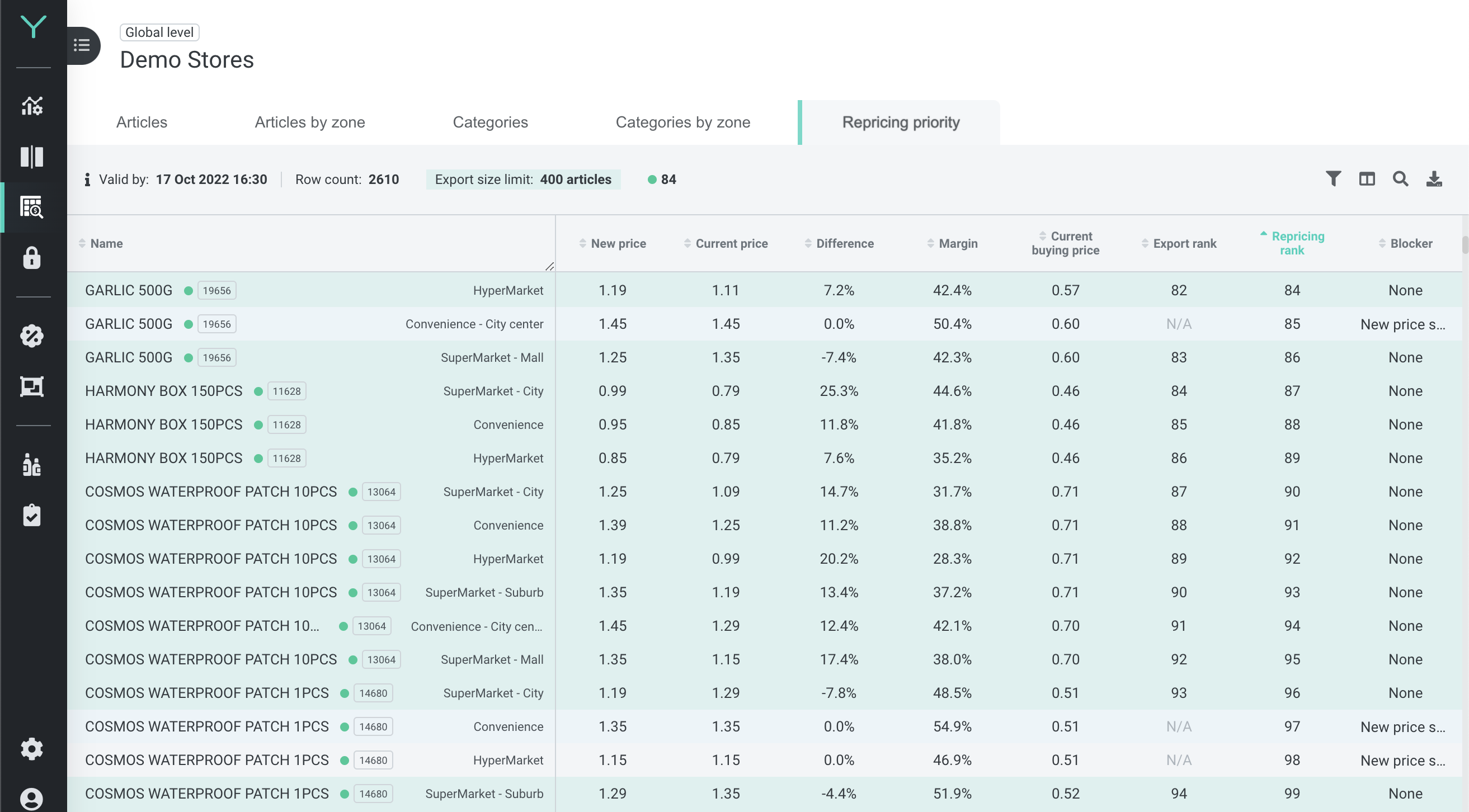 This feature is enabled upon request. Please contact our Support for more details.
2. START DATE IN LOCKED ARTICLE RULES
It is now possible to set both
Valid from
and
Valid until dates
in rules for
Locked Articles
. This allows for better future planning of excluded assortment in the app.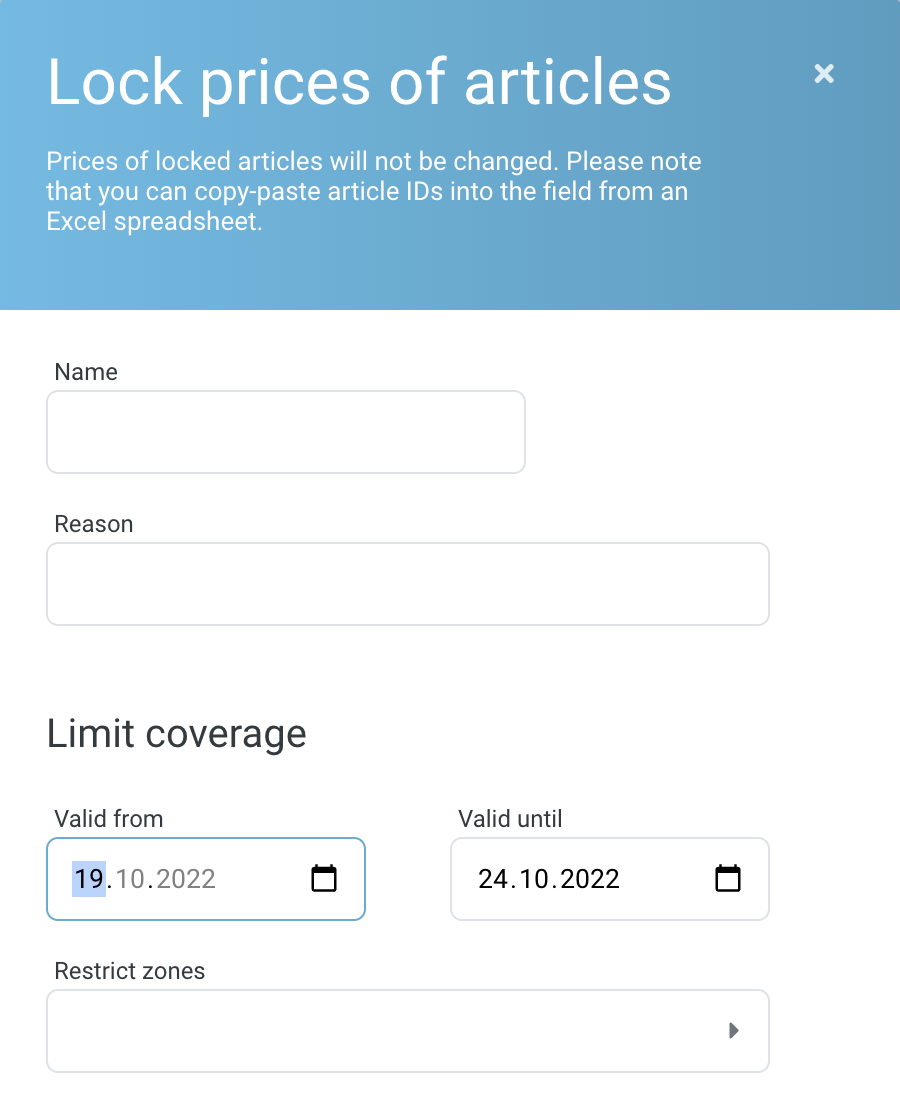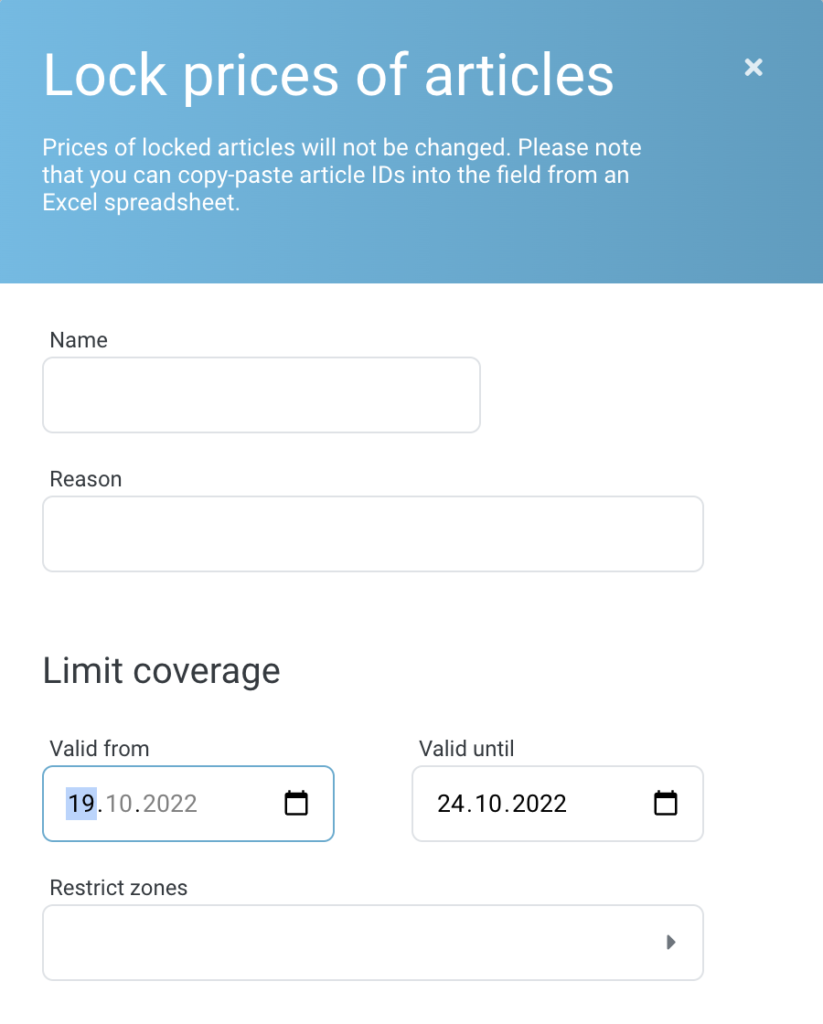 3. FLEXIBLE NUMBER OF DECIMALS FOR PRICES
In case prices of your assortment are in the range of higher thousands e.g. due to the currency in which you operate or various other reasons, it is possible to set the amount of
decimals
for
all prices across the application
.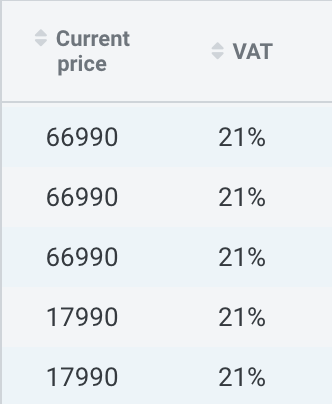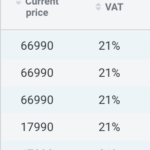 This setting is adjusted upon request. Please contact our Support for more details.
ENHANCEMENTS
Price report – Regular prices overview in article detail – UI redesigned to be more responsive and user friendly keeping all controls, switches and charts within the screen, no matter how large or small your resolution is.
Fullscreen mode of article detail enhanced in similar fashion to provide a more responsive experience on smaller screens.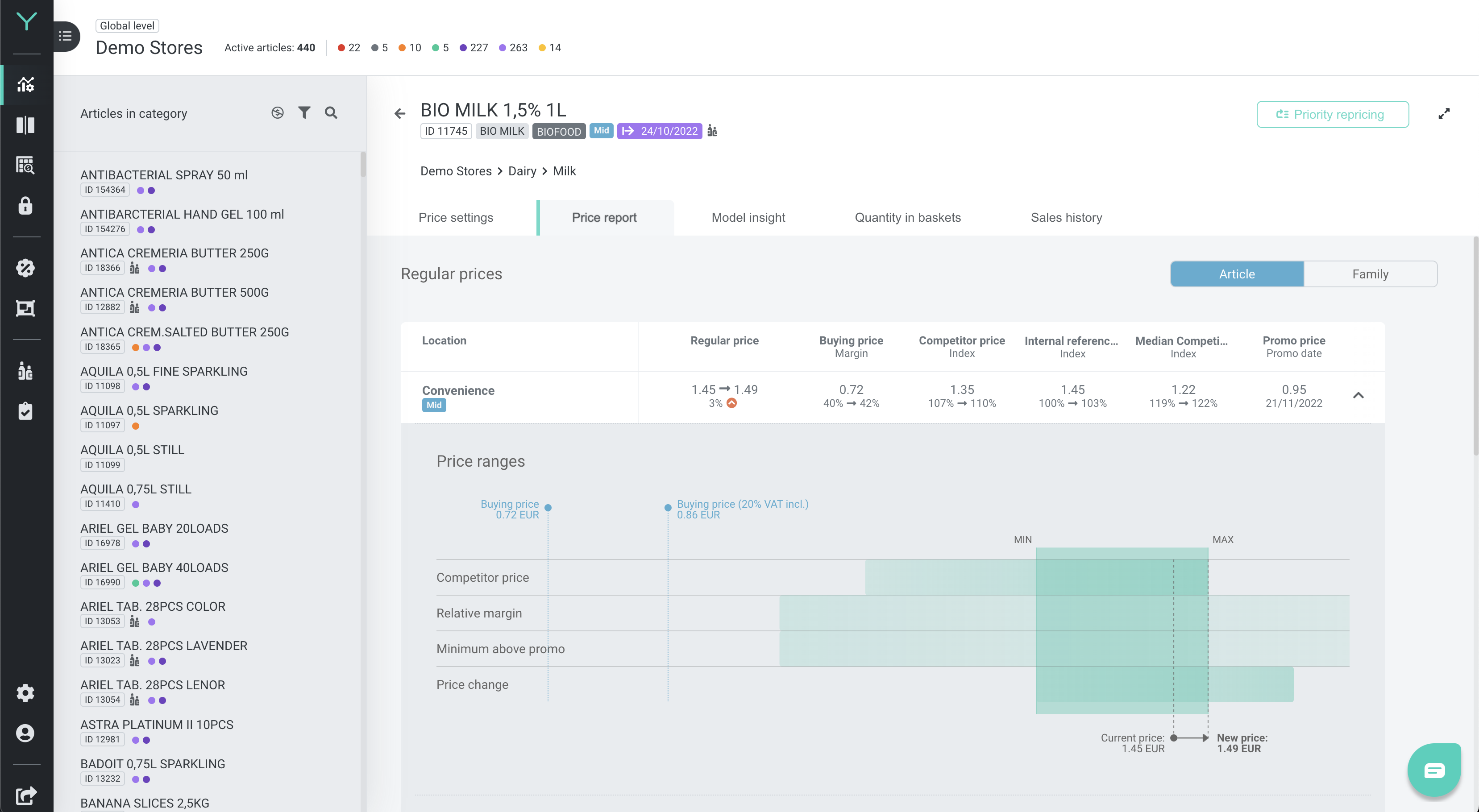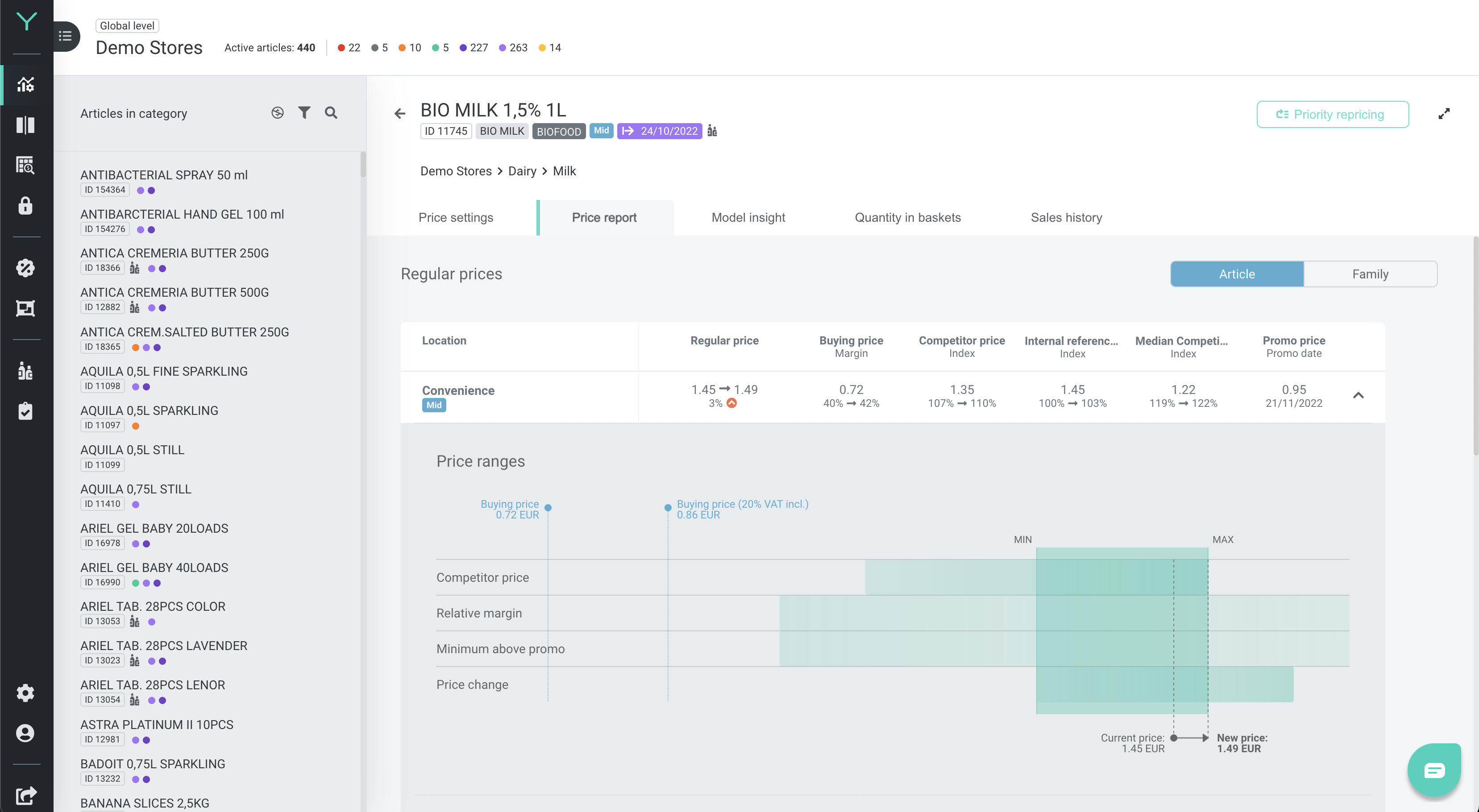 BUGFIXES
Reopening current Review after checking other exports in Exports module fixed
First column width adjustment in Exports module fixed
Column sorting and hiding in reports and tables fixed
Tooltip overflow in Promotions module fixed
Approving family suggestions via article Price settings fixed
Removing Locked article rules via article Price settings fixed
As always, you are welcome to reach out to our Support using chat during business hours to find out more on any of the new features.