We are back with a major app update v 4.48 which includes several brand new features.
Yieldigo's long-term ambition is to become number one price optimisation tool worldwide. Thus, one of our goals is to enable optimisation of not only regular prices, but also bulk prices for wholesale as well as retail clients. In this update, we are taking the first step in this direction by introducing Bulk price suggestions. Among other features are a new year-on-year sales history report, Locked Articles module redesign, new notification options, and improvements in user experience.
1. BULK PRICE SUGGESTIONS
A new optional feature for wholesalers and retailers using price tiers, that generates suggestions of bulk prices and tiers according to Suggestion rules set by users on global level. It is possible to create any number of global rules based on which all Bulk suggestions are generated and reorder them to change their priority.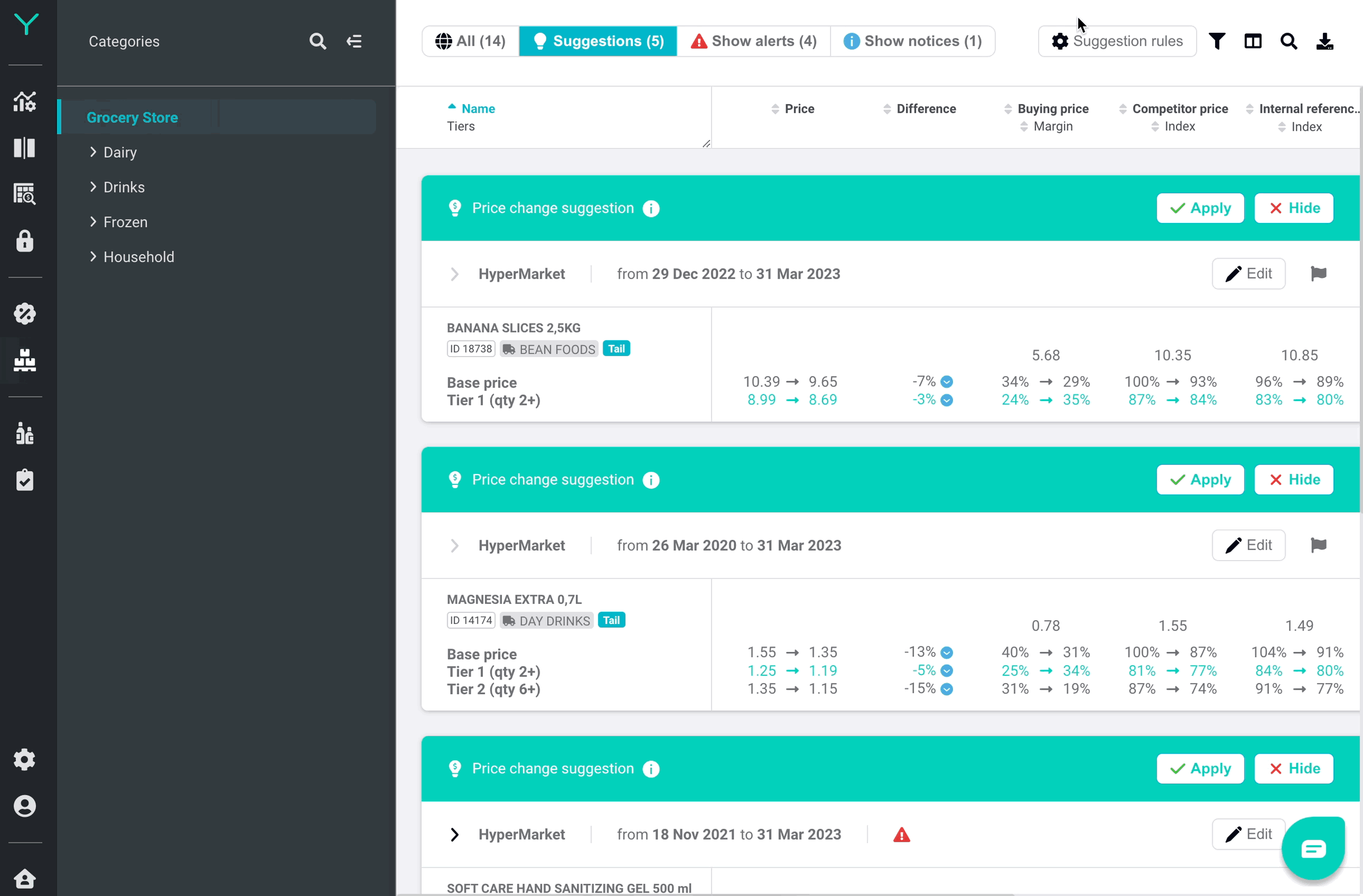 Our optimisation algorithms apply these rules as limits and identify situations where bulk prices can be optimised based on deep data analysis. Rules are applied in calculations sequentially from highest to lowest priority. The result is then shown in the form of suggestion cards.


Those can be seen either in the "All" tab where articles with bulk prices are listed or in the "Suggestions" tab. Each suggestion contains a reason explained under the info icon in the card header when hovered. A suggestion can either be Applied or Hidden:
Applying implements the highlighted changes to the article bulk settings.
Hiding makes suggestion cards disappear and not reappear again for a period of time or until Suggestion rules are changed. Hidden suggestions can be shown again and applied.
At the same time, bulk settings on articles can be
edited manually
in the usual way using the
Edit
button. If an article has a suggestion, changing its bulk settings manually will make the suggestion disappear.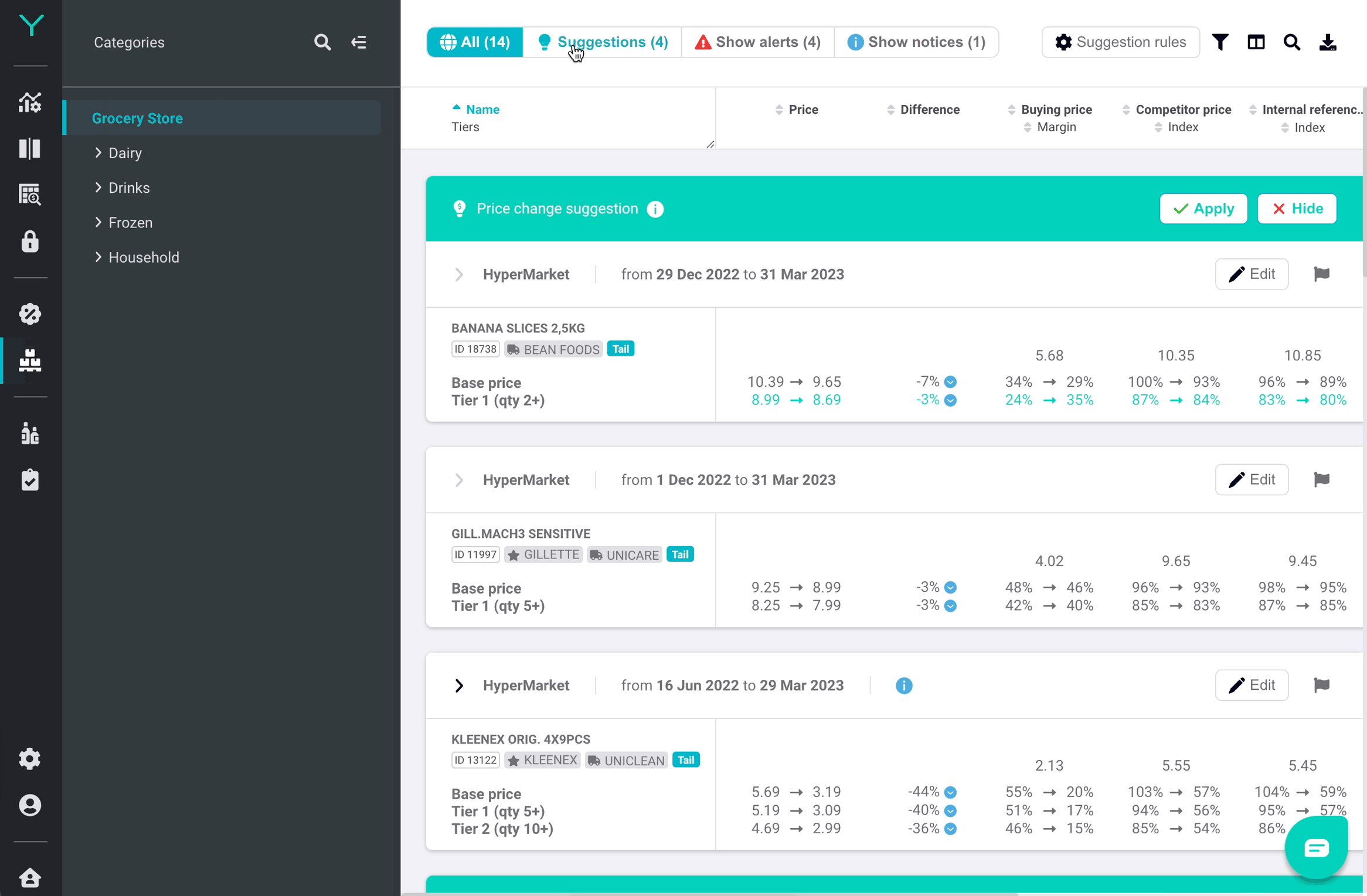 Note: Bulk price suggestions are an optional extra feature in Bulk Pricing module. In order to enable it, please contact our Customer Success team.
2. YEAR-OVER-YEAR SALES HISTORY
This new Sales history report in Price reports brings an overview of Volume, Revenue, Profit and Margin evolution over the course of the last two years in weekly intervals since the current week. The chart shows aggregated data on a global level as well as per category.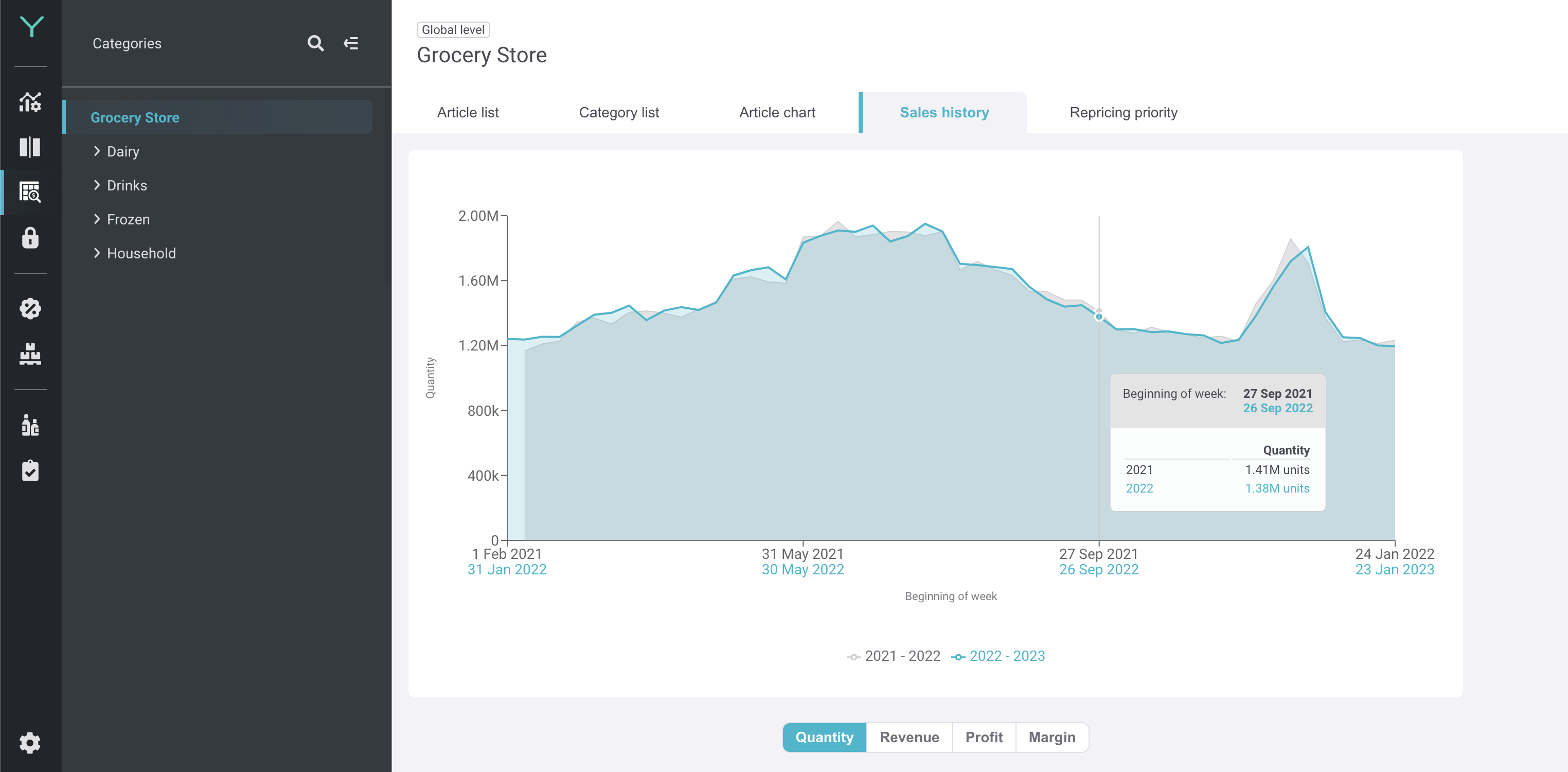 3. LOCKED ARTICLES REDESIGN
Overview of Locked Article rules is now in the form of a table similar to a report. It is possible to manage and sort columns, filter and search articles which makes editing rules simpler and more user friendly.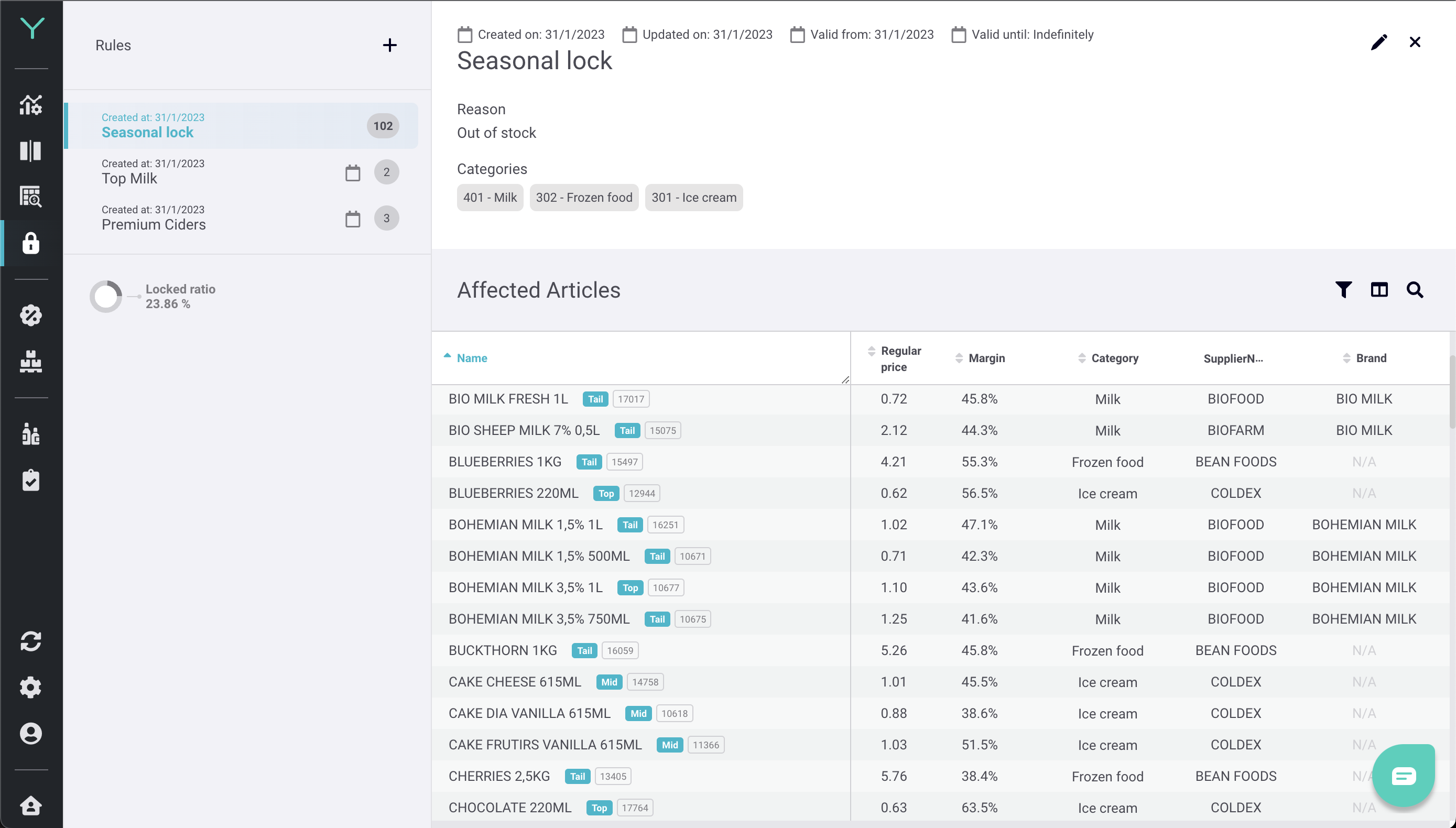 4. NEW E-MAIL NOTIFICATIONS
It is possible to receive notifications on status of Exports, when they are both opened and closed. Notification settings for each individual user can be found in the E-mail notifications section of user profile.
Note: This feature requires additional setup. In case you would like to receive both types of notifications, please contact our Support team.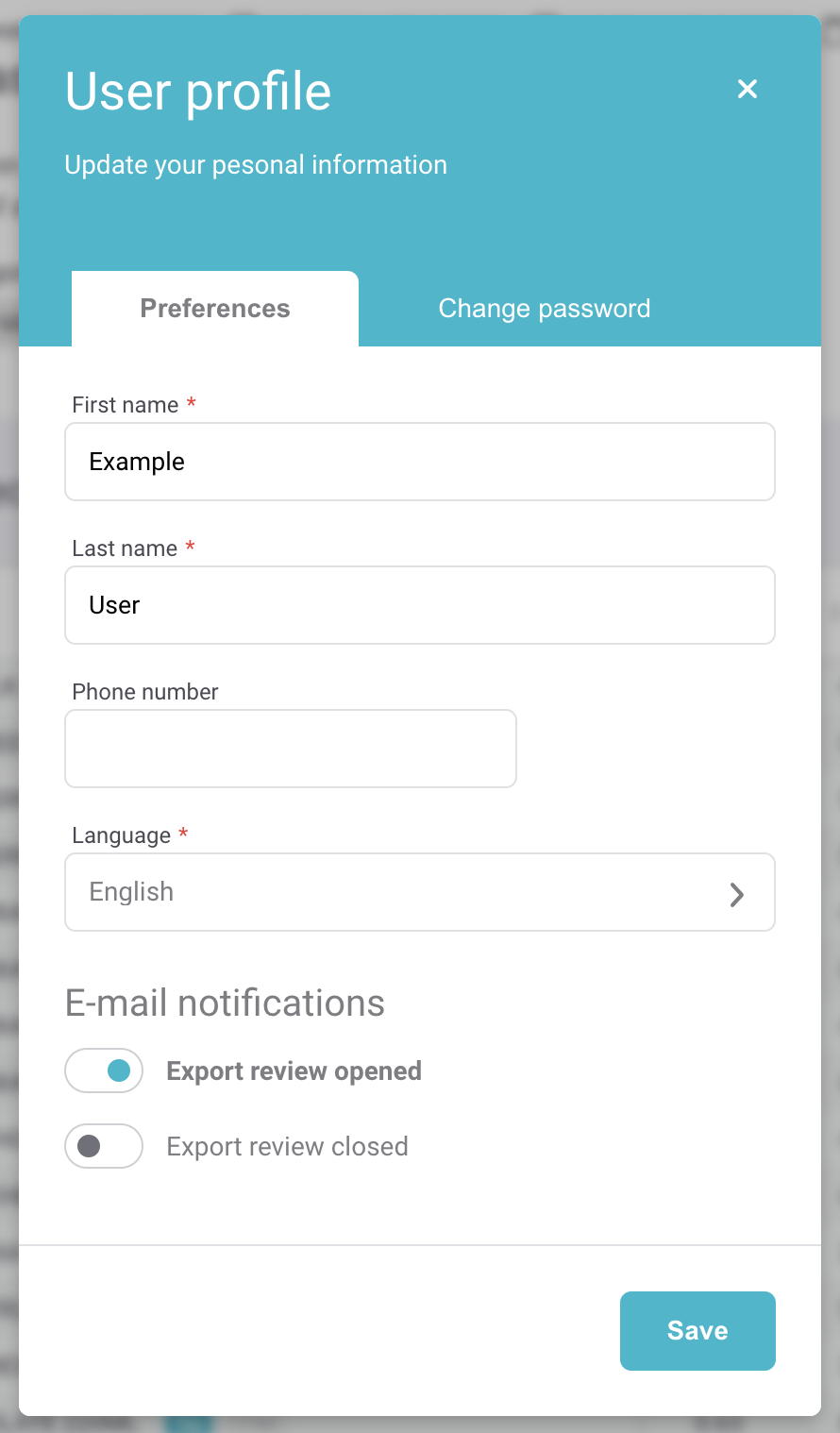 5. EXPORT MODULE UPDATE
In Export Review, when prices of articles are adjusted manually, changes and their impacts are reflected in the report immediately. Impacts on Revenue, Profit and Volume are calculated based on Regular price elasticity model which can be found in Model insights on each article.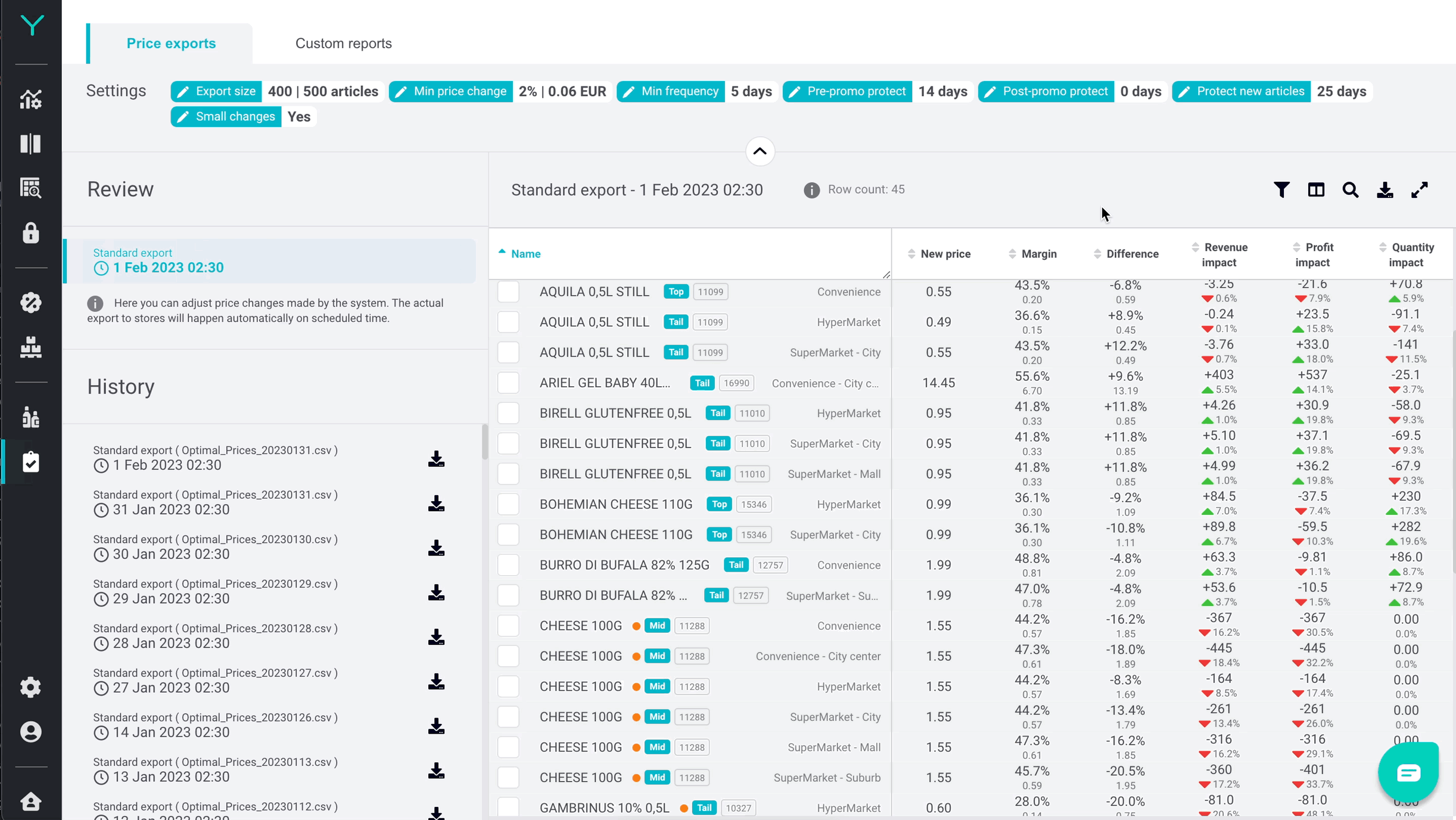 6. GLOBAL INACTIVE ARTICLE SWITCH
The switch displaying or hiding inactive articles now changes the view state across the whole app. If it is turned on in one modle it is also activated in all other modules and vice versa.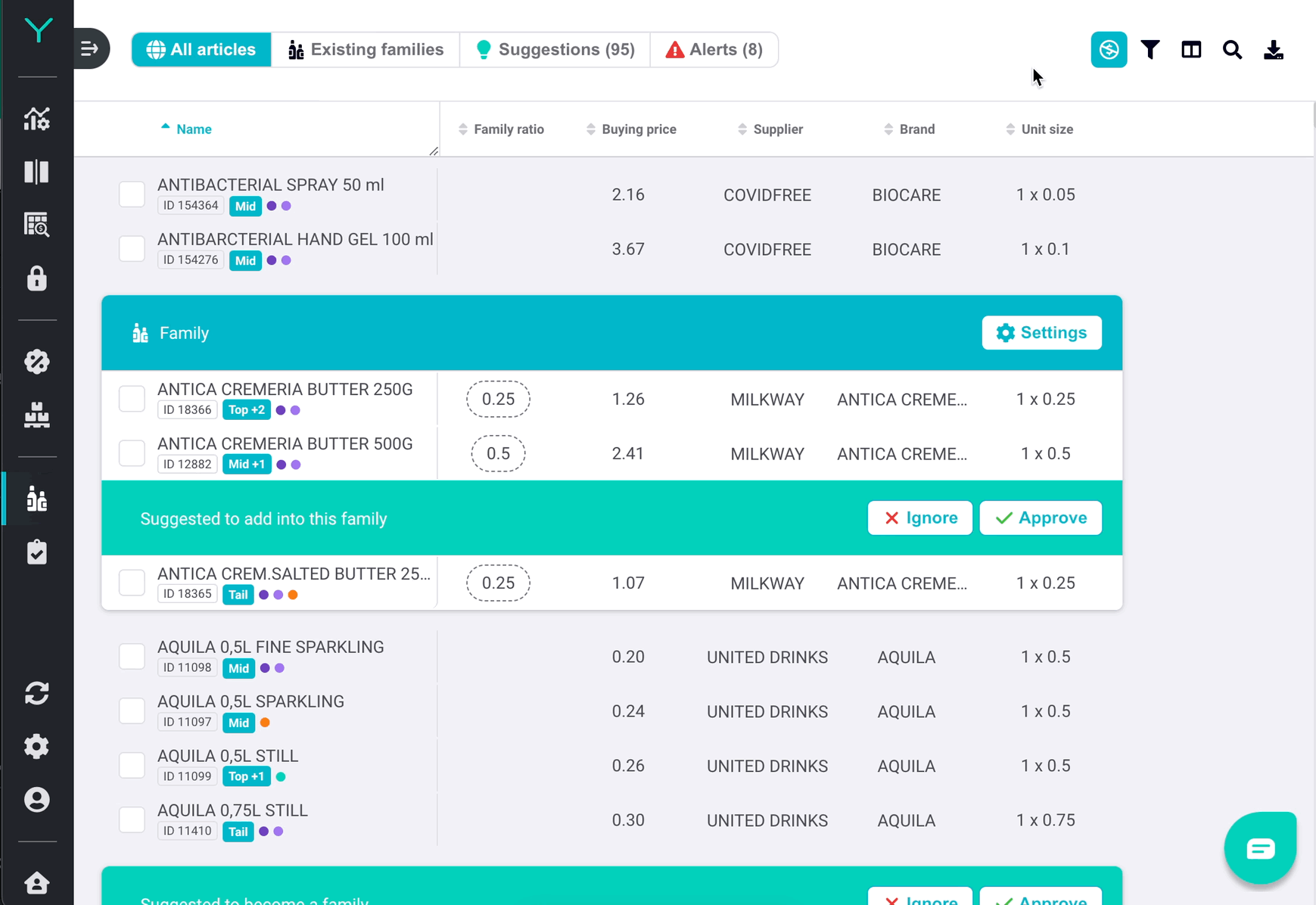 7. QUANTITY IN BASKETS UPDATE
Hints in the chart now additionally display number of Baskets as well as Total amount of units.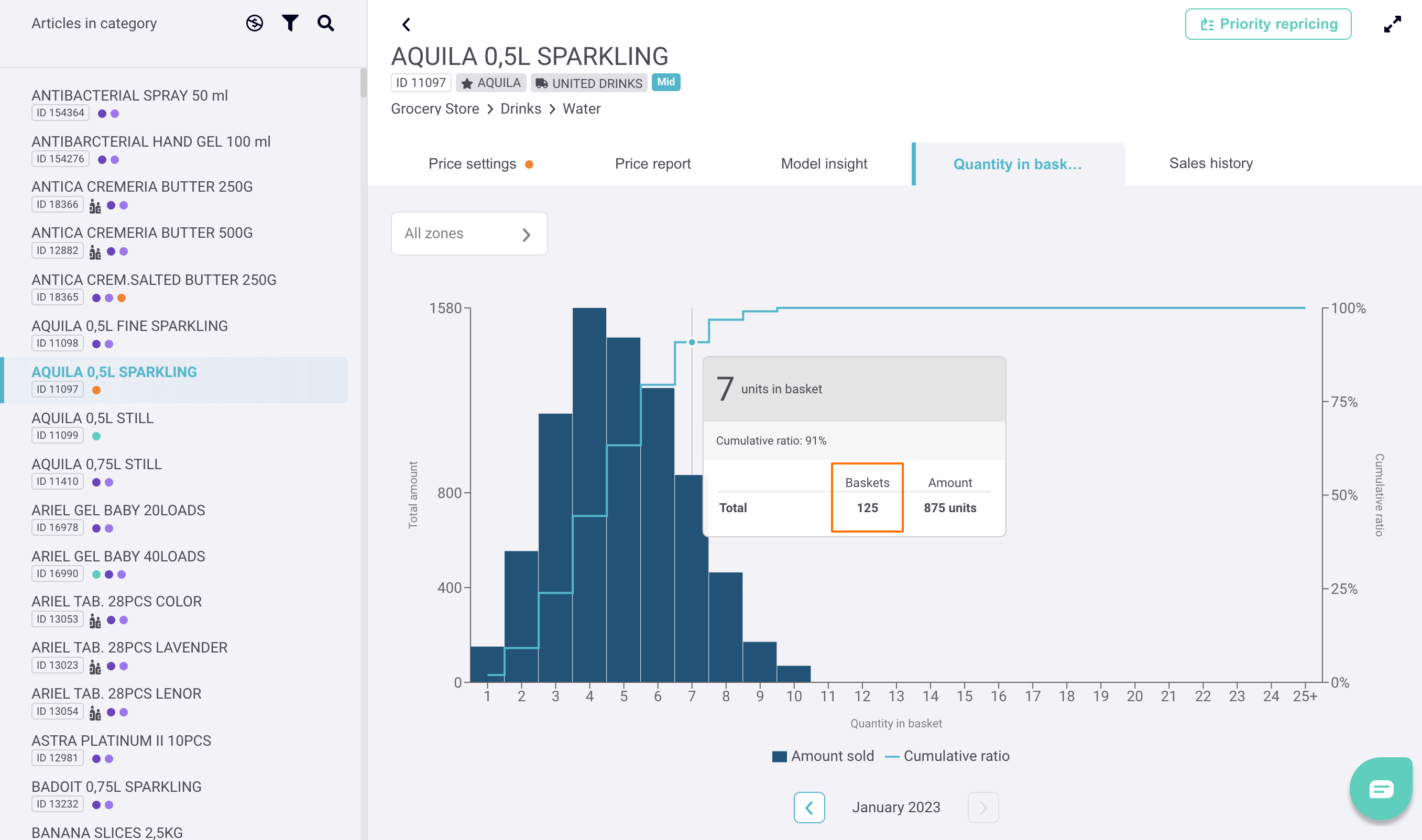 BUGFIXES
Scrolling issues in long article lists in Families module fixed
Sales history graph empty status after filtering data fixed
Large number values on graph axes covering legend fixed
User management search not finding results with diacritics fixed
User access rights displaying restricted categories fixed
Pricing goal form glitches fixed
Impact card tooltips corrected
Columns not in user order in Bulk excel download fixed
Export review slow loading fixed and optimised
We believe the features introduced in this release will significantly extend the scope of your work in Bulk module and bring improvement to your experience with the tool. Please reach out to our Customer Experience and Support teams in case you would like to provide feedback. Thank you and keep up the great work.