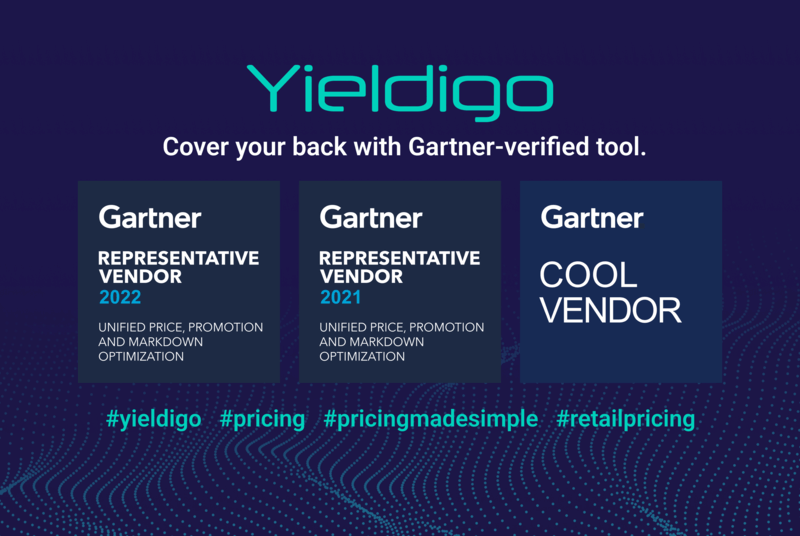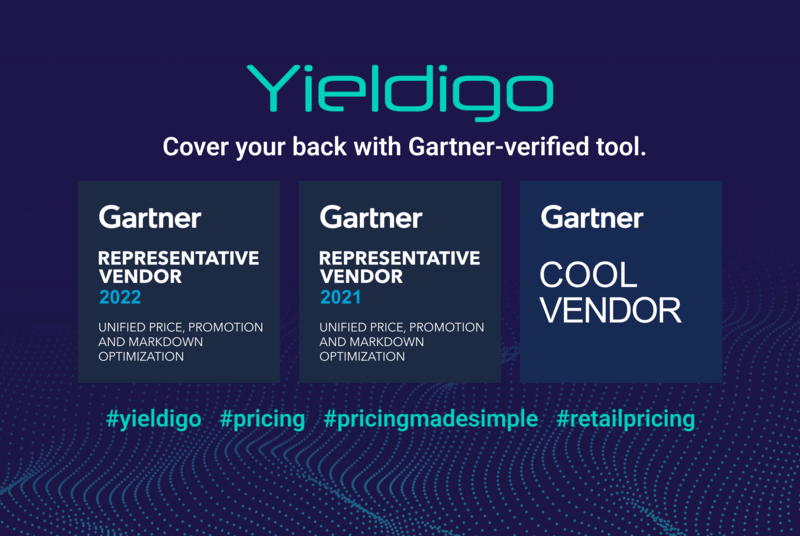 Well, we are again on top of the world, in the company of the best pricing and promotion solutions. We are honored and excited to have this place again… and congrats to you, Gartner, for this smart decision 🙂
Recently, independent analyst group Gartner Inc. released its report Market Guide for Retail Unified Price, Promotion and Markdown Optimization Applications – Long Life Cycle, and mentioned Yieldigo among the representative vendors, with some vendors having a long history in price optimization and other being new entrants for consideration by retailers seeking to enhance their pricing processes.
"Overprice and lose customers. Underprice and lose margin. Compromise and lose a job. Pricing managers and CCOs have a tough life to live. Helping them is humbling. As well as seeing Yieldigo in Gartner's 2022 report on Unified Price, Promo, and Markdown Optimization," says David Klecka, the CEO of Yieldigo. 
Gartner recognised Yieldigo as a Cool Vendor in 2019, and Representative vendor in 2021.
The guide states that "retail CIOs can use this research to understand why unified price optimization solutions are required for strategic pricing in unified retail commerce as well as to help them identify providers of solutions that manage long life cycle products."
Customers of Yieldigo come mostly from large international retail chains, supermarkets and FMCG retailers, across the regions in EU markets.
To learn more about how we can help you with pricing optimization, book a demo and talk to our Yieldigo expert.
About Yieldigo
The prices of goods influence billions of human lives every day. Our vision is to make retail pricing managers the TOP3 company heroes with our Pricing SaaS for the new era of augmented pricing.
Yieldigo is a company founded in the Czech Republic in 2016. So far, it has focused mainly on the development of cutting-edge technology for international retail chains in the field of goods price optimization. Yieldigo disrupts how retailers price their goods; as top-tier mathematicians, we build a robust pricing platform based on next-generation AI algorithms that enable retailers to tackle the full pricing potential in a very complex and competitive retailing environment. Our clients can calculate precise prices and foresee their impact on their revenues, margins, and volume prior to those prices being applied to shelves. With that, they can effectively simulate, set, and execute effective pricing strategies. The vision is to become a synonym for AI price optimization, which retail pricing managers will love through correct utilization and a combination of AI technology and GUI, not just because it is the only option on the market.
Source
Gartner, Market Guide for Retail Unified Price, Promotion and Markdown Optimization Applications — Short Life Cycle, Jonathan Kutner, July 28, 2022